English Online Support
We offer brief English Online Support via Facebook Messenger and LINE. Please check the information below and feel free to talk to us anytime. We will try to get back to you as soon as possible. In the case of LINE, please add us to your friend list using our Line ID: aqi9970v or QR code below. (There are also some English blog articles about visa, please check them out. If you are looking for information about tourist visa, you might want to check this article. )
■ FACEBOOK
■ LINE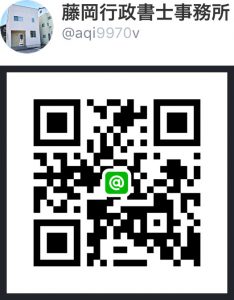 (*As it is free, we assume no responsibility to any person who relies on information provided through this service. )
About Us
Based in Toyama City, Fujioka Certified Administrative Procedures Legal Specialist (CAPLS) Office specializes in international services such as applications for various certificates of eligibility, visas and naturalization. If you would like help or have enquiries, please call us at 076-461-5345 or fill out the Enquiries Form. You can contact us in Japanese, English or Chinese.
Contact us if any of the following applies to you.
Marrying a Japanese citizen
Divorcing from a Japanese spouse
Working in Japan
Appealing your application denial
Bringing your spouse and children to Japan
Living in Japan after getting divorced from a Japanese citizen
Seeking citizenship for your newborn child
Incorporation in Japan
Obtaining licenses in Japan
Applying to Business Manager Visa
Applying to Tourist Visa
Applying to Permanent Regidency
International Inheritance
Writing an international will
International Adoption
Obtaining Apostille
Please also check our blog for English articles.
Services and Fees
Consultations
| | |
| --- | --- |
| Private Consultations | 5,400yen/30min- |
Applications
| | |
| --- | --- |
| Certificate of Eligibility | 100,000yen~ |
| Change of Status of Residence | 100,000yen~ |
| Extension of Period of Stay | 50,000yen~ |
| Permanent Residence | 120,000yen~ |
| Naturalization | 150,000yen~ |
We also offer international services other than those listed above. These services include International Inheritance, Contract Drafting, Company Incorporation, Legal Document Translation and so on. We are also happy to assist you in day to day matters such as explaining and translating letters and other documents from local authorities. Please feel free to contact us at 076-461-5345 or fill out the Enquiries Form.
Profile|Takanori FUJIOKA
Takanori FUJIOKA, a Gyoseishoshi Lawyer, is the President of Fujioka Certified Administrative Procedures Legal Specialist Office. Prior to launching his own practice, he worked at KPMG Japan, one of the Big Four accounting firms, and a government organization in Tokyo. With his language skills and global insight, he has extensive experience working internationally. He is also the President of Fujioka Real Estate Appraisal Office and has a long-term experience as a Real Estate Appraiser.